Our Story: David and Teri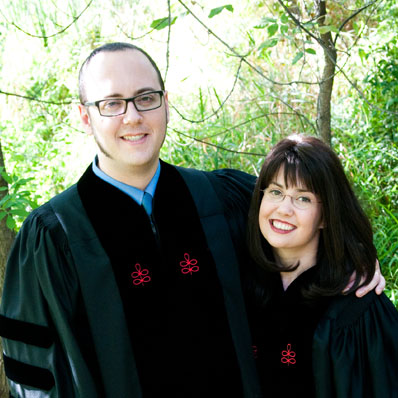 We are Unitarian Universalist ministers. We met in college and bonded over our shared call to UU Ministry. We married and completed our studies at Harvard Divinity School together, and have walked a path toward parish co-ministry for many years now. We take our vocations and our faith seriously, but we strive not to take ourselves too seriously! While we attend to the brokenness of this world, we seek to cultivate spacious and supple hearts that can hold joy as well.
For over ten years, we have committed ourselves to our marriage, our ministerial formations, and our ministerial service. We have experience from churches large and small, including two of our large, flagship UU congregations. We bring expertise in the broad range of congregational ministry, including policy governance, change management, and small group ministry. We have both honed our ministerial skills through contract work, pulpit supply, and officiating at rites of passage. We are committed to cultivating a thriving church congregation that serves people on both sides of its sanctuary walls.
In addition to our congregational experience, David has a decade of business experience, including significant work at a Fortune 50 Corporation. Dave brings expertise in change management, training and development, project management, and innovation. Teri has completed additional credentialing in clinical chaplaincy, and has served as a chaplain in hospice and palliative care, and as a clinical chaplain in urban and community hospitals. Teri brings expertise in pastoral care and counseling, psychology, organization and writing. Our ministry has been shaped by our formation, our professional experience, and the curricula of our lives.
We are two people; we have two minds. We have two skill sets, but we are one ministry team. Together, we can serve a church in ways that surpass what either of us could offer alone. We have a shared vision for a thriving church supported by complementary gifts and experiences. We are committed to cultivating lives of integrity and serving our liberal faith and the broader world, with joy! This is our story.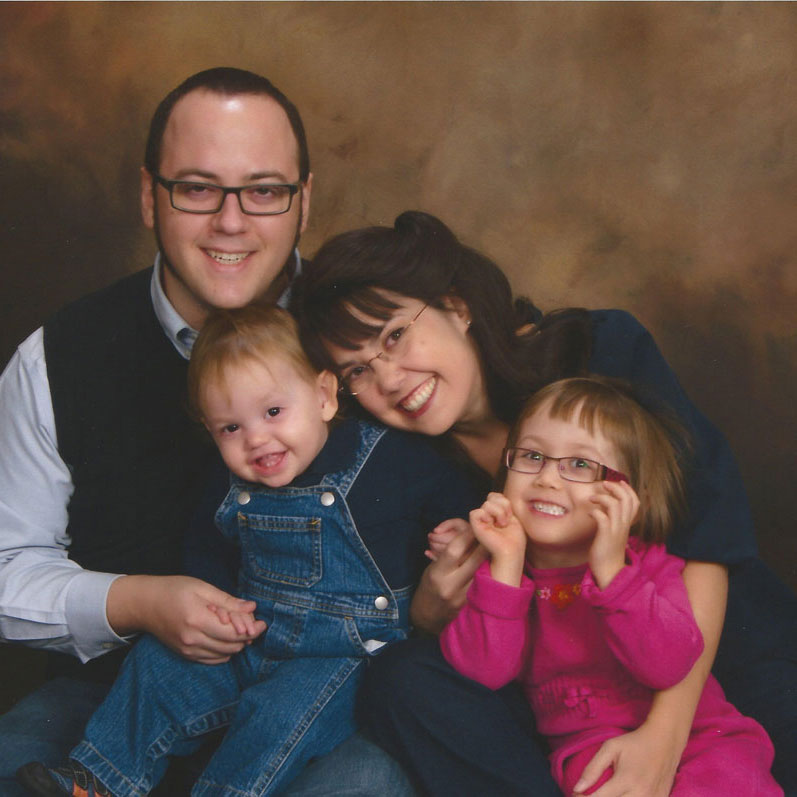 Originally from opposite coasts, we have lived in the Twin Cities for over six years and have been married for eleven years. We make our home in a 110 year-old house on the south side of the city, just minutes from downtown Minneapolis. We have two delightful children: a four-year old daughter, Josephine, and a one-year old son, Matthew. Josie is bright, talkative, and full of energy. She loves doing art, playing with her friends, and going on adventures. Matthew is walking and starting to talk; he is affectionate and playful and is enchanted with school buses. The four of us live with our three tuxedo cats, Nol, Holden, and Peter.
Dave works full-time at Target Corporation as an Organizational Effectiveness Consultant. Teri is a stay-at-home parent, and serves as a chaplain for St. Francis Medical Center, in Shakopee, Minnesota on a weekly basis. We enjoy preaching and officiating at rites of passage. We regularly attend services at First Universalist Church in Minneapolis, where Teri is affiliated as a Community Minister.
When we're not doing ministry or parenting, we like reading, cribbage, folk music, and bicycling. We are slowly teaching ourselves how to play the acoustic guitar. We love good food, and we delight in visiting local, organic restaurants that share our values for social justice. We are self-taught cooks, and last summer we started a garden to have fresh veggies for our creations (they mostly survived, even!).
David enjoys graphic design and loves comics of all kinds; he also likes to bind books by hand. Teri dabbles in fiber arts including irreverent free-style embroidery and crochet. We observe a family Sabbath and we each try to go on retreat at least once a year. Together with our children, we find our joy in our faith, meaningful work, and wonderful friends.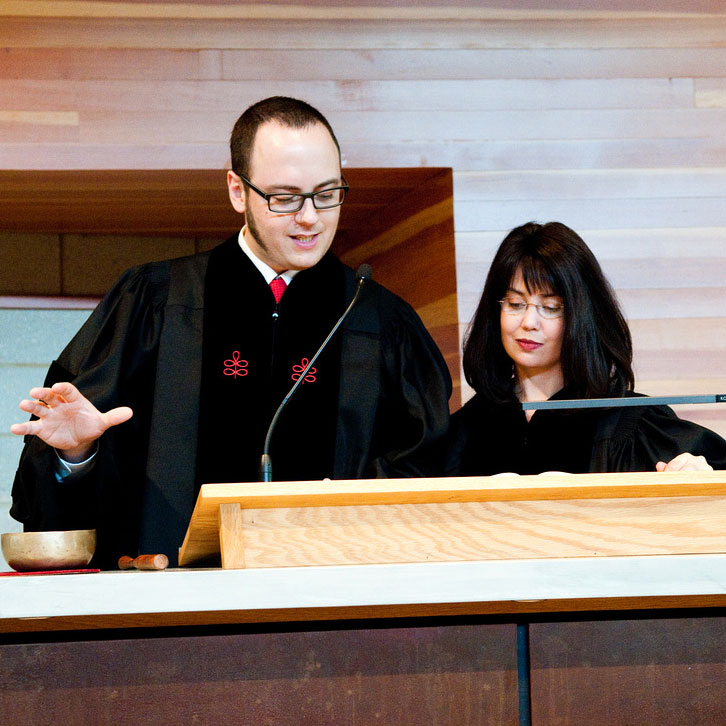 We are seeking ministry now because we believe our world is in deep need of the saving message of Unitarian Universalism: that you can be who you are and become who you are called to be, that you can grow your soul and serve the world, that all are welcome and all are worthy.
We believe that we are called to grow and share this saving message of our liberal faith. We have seen its power first-hand: seen broken people filled with love; seen what happens when work for justice is rooted in deep religious conviction; seen the power of worship services that touch souls deeply. We have experienced spiritual transformation through our UU faith—both in the people we have had the privilege to serve and in our own hearts. We are seeking ministry now because our world needs our faith now as much as ever.
Having had our callings and formations affirmed by the Ministerial Fellowship Committee and having served in two large, vibrant UU congregations, we began our ministerial service. David spent a year planting a small group ministry program as the first-ever Director of Small Group Ministry at White Bear UU Church. Teri completed her chaplain residency and served as the Minneapolis VA hospice chaplain and as a clinical hospital chaplain in urban and community hospitals.
Professionally the time is right to seek co-ministry; we come with commitment, energy, and vision; we are ready. Yet, we were deliberate to ensure that it is also personally the right time to seek co-ministry. During the last few years, we have established a firm footing as parents and as a family. Now that the younger of our two children sleeps through the night and attends nursery school, we have found our steps in the cadence of our family's new rhythms. Our family is in good health and thriving, poised for our next adventure. We are ready for parish co-ministry now—both personally and professionally. Our immediate and larger world beckon in harmony; it is time, we are ready!
All site content and design by David and Teri Schwartz